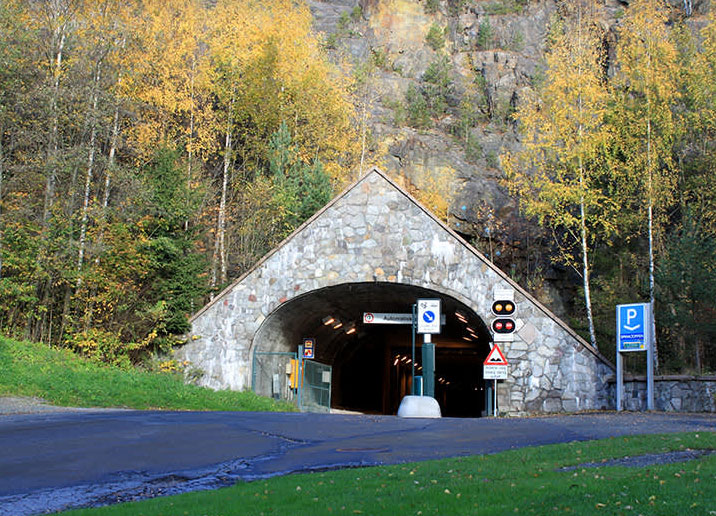 Please note: in 2020 the tunnel was upgraded. 
The spiral tunnel in the city of Drammen is a unique experience and in fact has been ranged by CNN Travel as one of the world's most special tunnels.  You enter from the town and drive up 1650 meters in six and a half spirals , to emerge at Skansen. Here, apart from the magnificent view over the city, the river, and far away across the valley to the snow topped mountains of Blefjell, you will find a restaurant, outdoor folk museum and lovely paths for walking or skiing.  A dense network of these paths is lit in the winter for evening skiing.
The tunnel was excavated in 1953 when stone was needed for road and harbour building in the city.  It starts 50 meters above sea level and comes out at the top at 213 meters over sea level. The tunnel is in the shape of a helix and the car driver will soon find that he can set the driving wheel in one position to take the vehicle all the way up to the top.  Pedestrians may not use the tunnel and instead there is a zigzag track up the hillside.
In the photos above you see the Spiral Troll who stands guard half way up the tunnel.  If you decide to take the 2 km walk (please see the map below, from the car park, through the folk park where there are houses, a shop, a cabin and several Norwegian style farm store-houses (stabbur) then you'll pass these and more.  The old style shop is open all the Sundays in May, June, August and September from noon to 3 p.m.  They sell pancakes, coffee, icecream, lemonade and candies.   Along the last 500 meters of the walk, there are magnificent views over the Drammen river and to the mountains beyond.  And pleasant benches to rest while enjoying it.  I especially recommend Hans Hansen's viewpoint!  You end back at the restaurant, where there is a canon, pointing over the city below, to fascinate children.