What's special about May?
Russ Celebrations:
from April 20th, until the National Day on 17th May, you will notice young people wearing red or blue overalls decorated with white words and symbols.  These are 18 and 19 year old students  in their last term of upper secondary school and are celebrating the end of secondary education. They are called "russ".  All over Norway, they traditionally don their russ overalls in April and wear these unwashed till the end of the celebratory period.  Some groups of russ buy an old bus and spend a lot of money and time decorating and furnishing this.  They then drive around their neighbourhood after school and at weekends, usually playing very loud music.  Many people, especially teachers, deplore this tradition as the non-stop partying and drinking can destroy students' chances of achieving good results in the final state examinations which begin immediately after the 17th May. (The picture shows exhausted students on top of their bus at the local school's National Day celebrations.)
The Norwegian National Day is 17th May and is celebrated all over the country.  This is when you can enjoy seeing many bunader (national costumes) from all over Norway for many men and women wear the bunad of the district they, or their parents, originally come from.  In every village and town, there are processions of school children, local families and visitors all waving flags and enjoying the school band playing patriotic songs,
As the Crown Prince and Princess live in our municipality of Asker, children from all the primary schools get up very early indeed and march in procession from Asker Church to the Royal Residence at Skaugum where the Royal Family waves from the front door steps.
Afterwards the children are brought back to their own school district where they again march, this time to their school for fun, games and lots of goodies.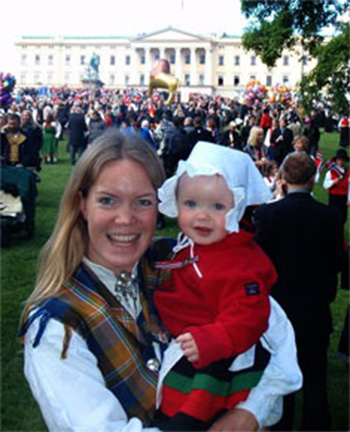 The longest procession is in Oslo and it is breathtaking to see the several hours long procession march up the main street, Karl Johan gate, to the Royal Palace where the Royal Family waves from the central balcony.
It is traditional to eat lots of ice-cream and hot dogs on this "Norway's birthday".
30th May is Ascension Day (Kristi Himmelfartsdag) in Norway and a National Holiday.  In 2020 Ascension is on 21st May.
Pentecost weekend (Pinse) is Saturday, Sunday and Monday 8th – 10th June 2019. (30th May – 1st June in 2020)  This is a National Holiday in Norway.
Opera day in Vollen – On 27th May at 15:00 hrs, Katharina Kockum will lead the programme of opera at Vollen Marina.
For those who enjoy more modern music, there is a Concert evening with the Norwegian group Di derre og Hu derre on 26th May at 19:00 hrs.  This is also at Vollen Marina.  For lovers of Norwegian thrillers, it will be of interest that Jo Nesbø is an enthusiastic member of the group!
You can get more information and order tickets at www.destinasjonvollen.no
Places especially worth going to in May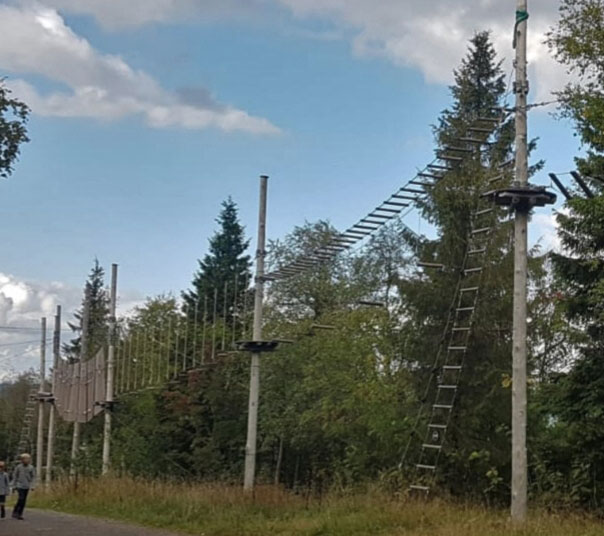 Oslo Summer Park is the biggest climbing park in Oslo and very popular with locals and visitors alike.  There is climbing for everyone, regardless of age or skill. There are over 150 elements among the trees, across 9 different routes of varying...
read more