The Cobalt Mines lie in the hills above Åmot, and can be reached by a 2 hour car trip from Vollen.  We suggest you spend the whole day as there are lots of activities apart from the fascinating tours (for children or for adults) into the depths of the hills along the mine shafts.  Last time we were there it was a warm 26 degree Celsius summer day but both adults and children put on the woolen capes and helmets provided and were soon very glad we did for the temperature inside the mines is about 6 degrees.  The guides are excellent, enthusiastic, knowledgeable and at times amusing.
Apart from the history which fascinated the adults (maybe especially the essential difference between English and German mine engineers!!) the boys remember seeing the fossils in one of the caves. Afterwards they added to their own collections of stones and fossils, by purchasing well considered items in the excellent mine shop. They also remember that 100 years ago, young boys spent their days attending the Mine Primary School and also working hard at the mine every day!
In 2017 a new and spectacular attraction was added to the guided tour of the mines.  You can walk on to a glass floor in the middle of a 20 metres deep shaft – not for the faint-hearted, but definitely an experience to remember.
The tours begin in Mid- May and continue to the end of September.  Please consult the brochure in Sheeps Inn to read about the various tours, dates and times as well as the various prices.   For planning before arrival consult the Mines webpage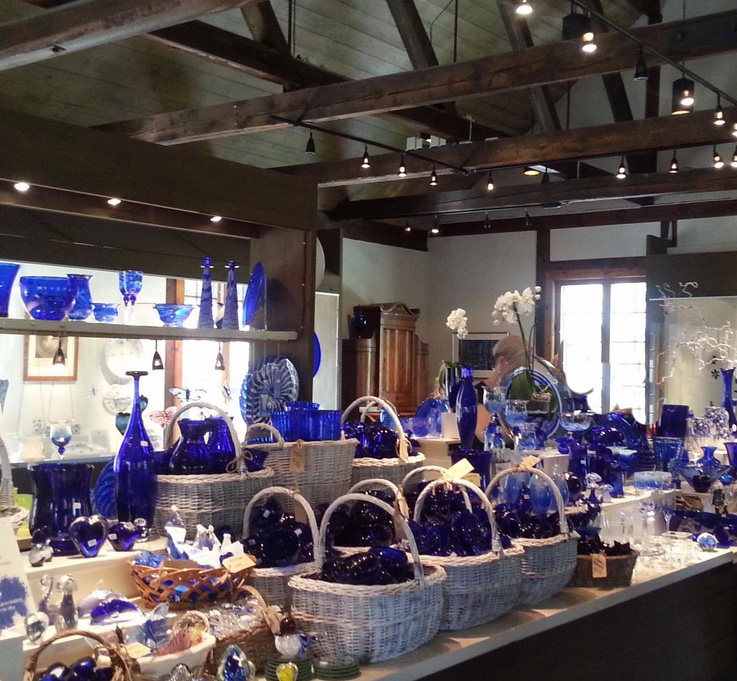 The cobalt was highly prized by the Royal Porcelain Factory in Copenhagen as the blue colour was essential for decoration.  You can buy porcelain and glass in the famous cobalt blue at the large store at Blaafarveværket, 8 km further down the valley on your way back to Vollen.
Cobalt Mines, Malmveien, 3370 Vikersund
Latitude: 59.968512 | Longitude: 9.873383 Altitude: 263 meters
I suggest that you drive to the Mines by the northern route, through Sylling and along the fjord to Vikersund where you can marvel at the world's highest ski jump.  In summer you may see paragliders in this area. Take the southern route back, stopping at the
Blaafarveværket, Koboltveien, 3340 Åmot
Latitude: 59.911201 | Longitude: 9.88851 Altitude: 47 meters