IKEA – just ten minutes drive by bus or car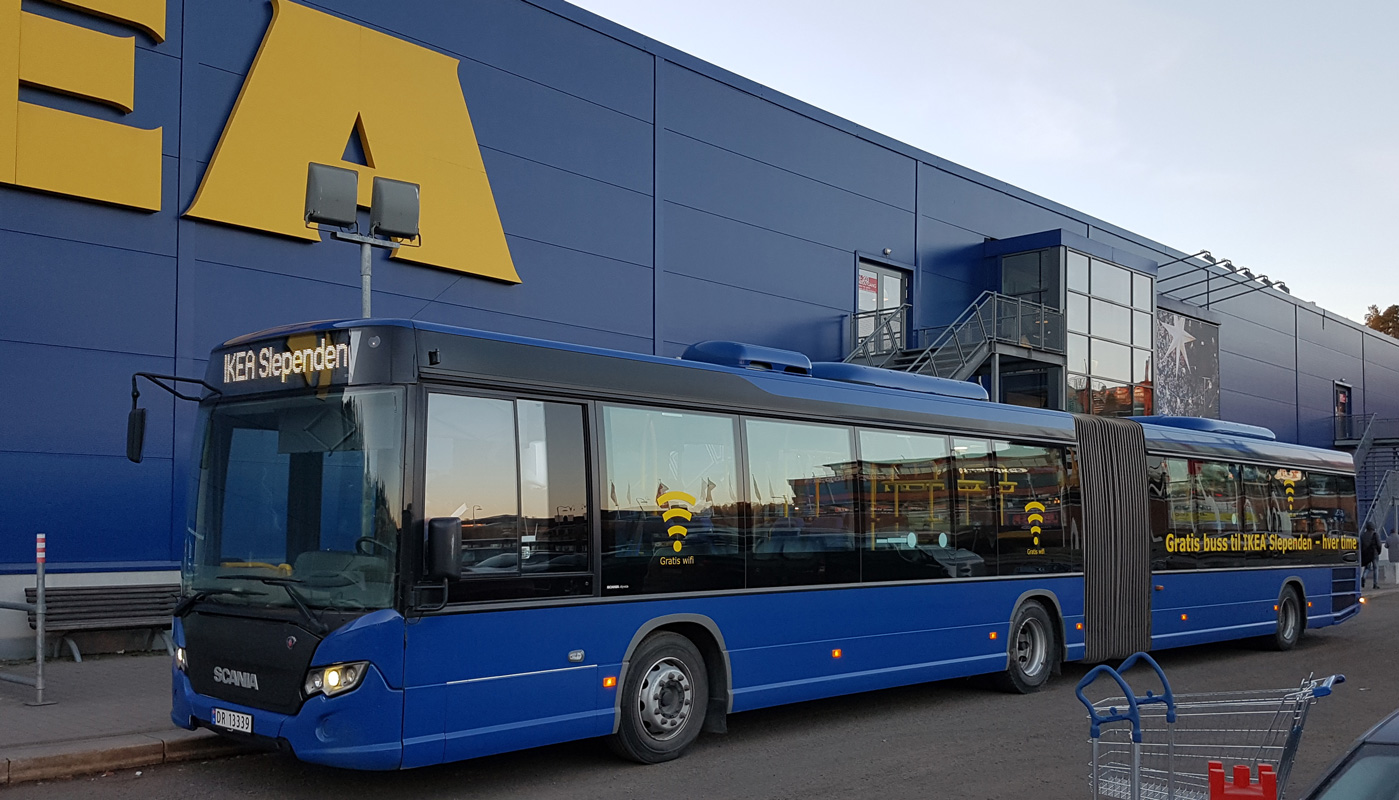 IKEA at Slependen is one of the largest stores in Norway.  It can be fun to wander around for inspiration or to buy some items for the home.  This is also where you can enjoy the cheapest meal in the district – and also one inspired by Scandinavian traditional cooking.   Everyone knows that IKEA ice-cream is the cheapest and best, and very many customers recruit their energy by buying a  hot-dog (or two) for just 8 kroner, right opposite the cash desks.  The huge parking house is free of course, as is the frequent IKEA bus which shuttles between the store and the centre of Oslo.
Store Opening hours: Monday to Friday 10 – 22 and Saturday 9 – 21  Restaurant: Monday to Friday 9:30 – 21 and Saturday 9:30 – 20
The IKEA fish burger is excellent-  It is made of cod, haddock and pollock and is served on ecological bread bun with salad and  spicy mayonaise.  This is the IKEA flagship dish of 2019!
Children up to 11 years old can order a delicious child's fish burger for NOK 45,-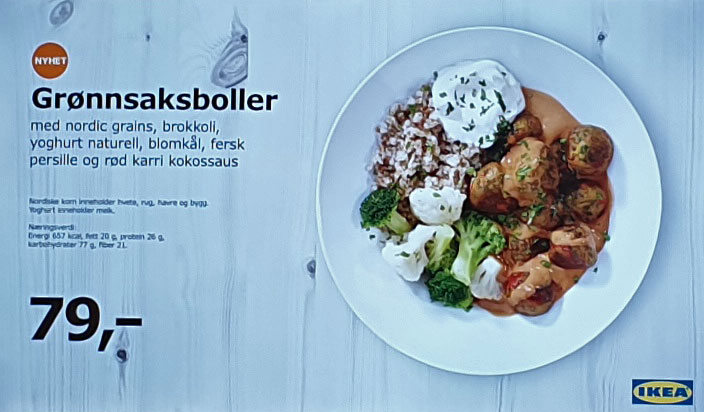 For vegetarians, this is a good choice – vegetarian balls with Nordic grains, vegetables, yoghurt, fresh parsley and a red curry coconut sauce. 
Children's portions can be ordered.
There is a selection of cakes, pancakes, biscuits, sweets and breads.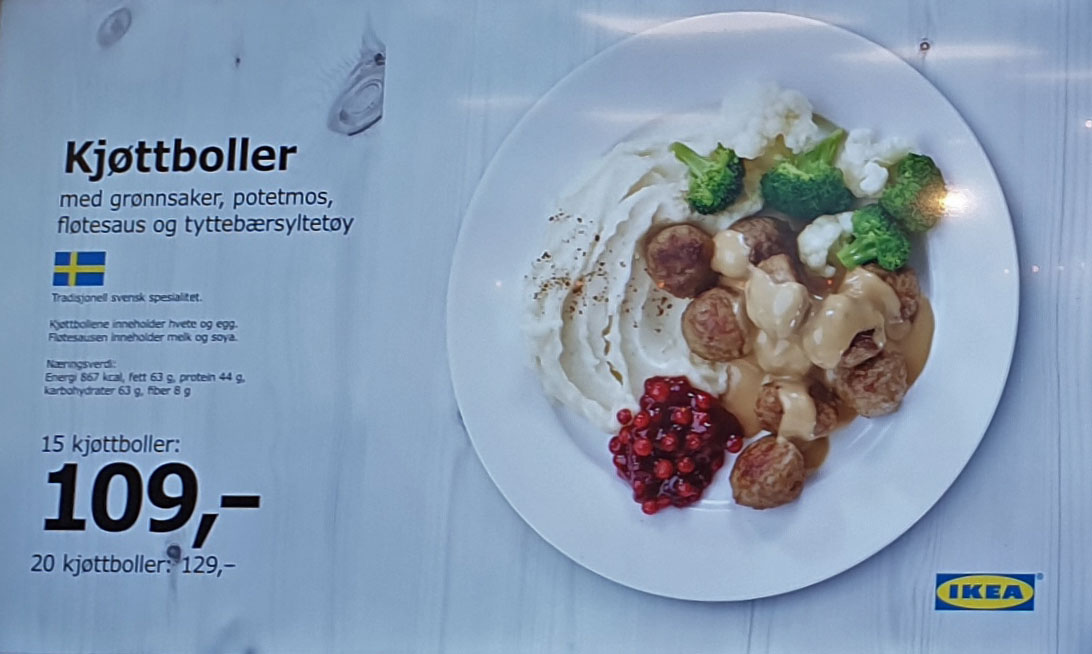 There's nothing more traditionally Scandinavian than this dish of meatballs, served with either mashed or boiled potatoes, creamed sauce, vegetables & cranberry jam. 15 meatballs costs NOK 109,- and 20 meatballs is NOK 129,-  There's also a very cheap child's portion (much loved by my grandsons!!)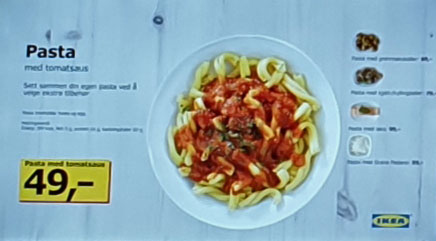 IKEA pasta with tomato sauce is filling and tasty.  It's especially very popular with children. 
You can order extras such as meat or veg balls in addition to the basic cost of NOK 49,-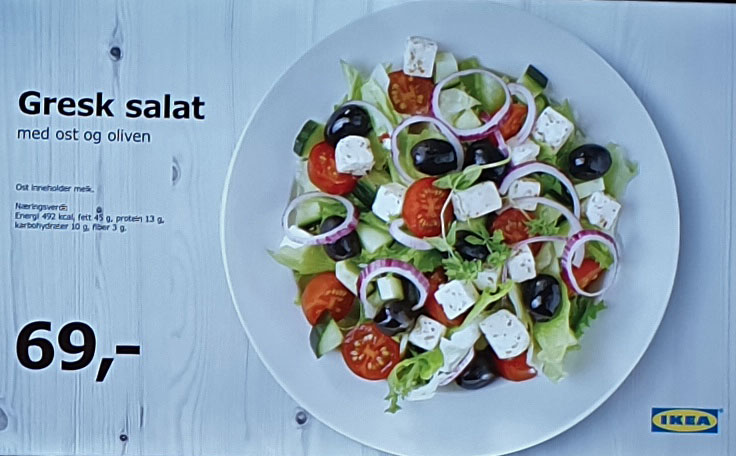 Feta cheese and olive salad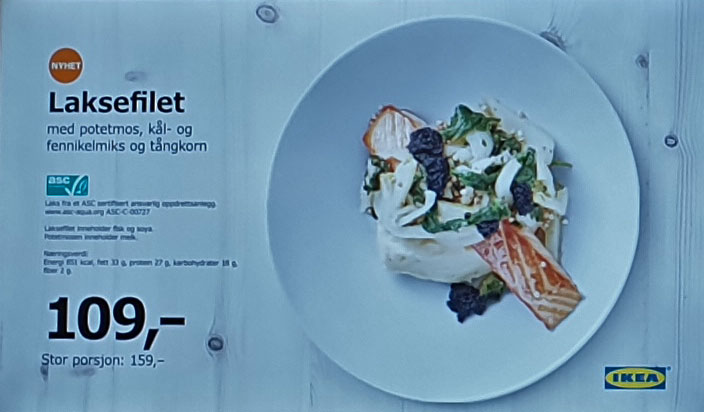 Another Scandinavian favourite is filet of salmon, served with a cabbage, fennel and seaweed-grain mixture and mashed or boiled potatoes. 
If you are specially hungry, you can order a big portion which costs NOK 159,-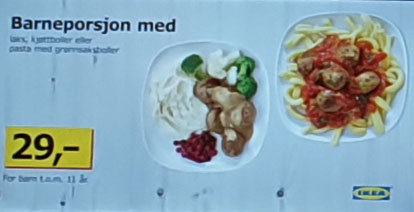 IKEA offers very cheap and good child portions, which just cost NOK 29,- for the most popular dishes.  My grandsons have worked out that 3 kids' portions of meatballs are better value than one adult portion – "and you get lots more potatoes Granny!"  Guests who prefer ketchup to cranberry sauce, can use the sauce vending machines.  My grandsons also enjoy the IKEA soft drinks system which allows them to return to the machine for extra fill-ups or to mix the flavours!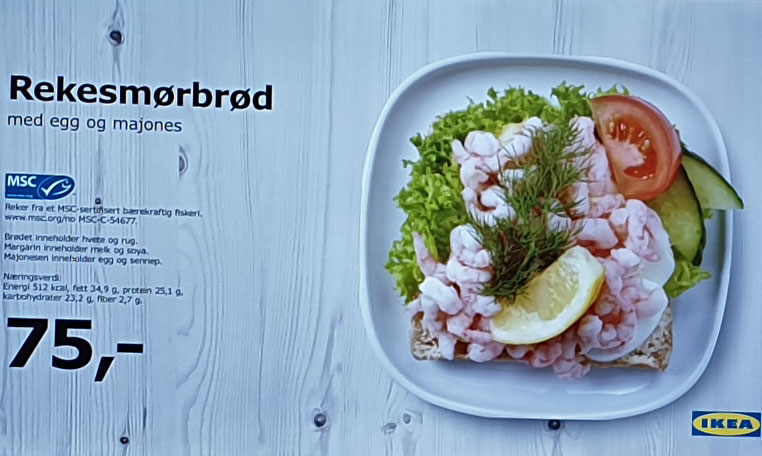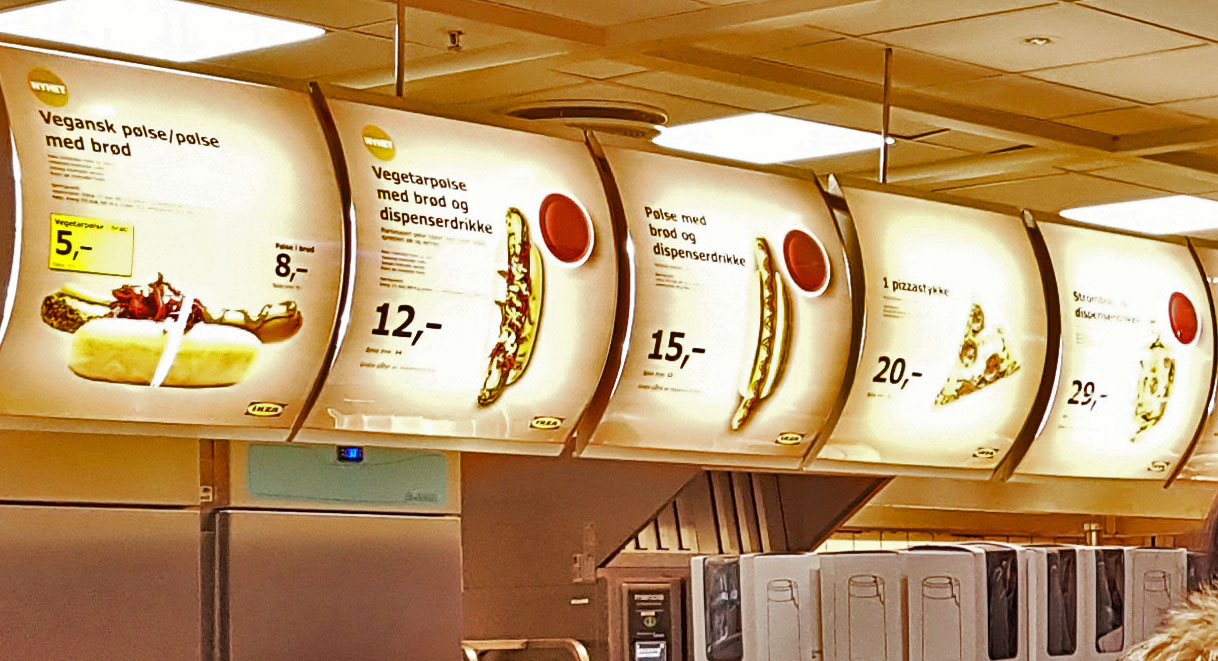 The quick service food kiosk is opposite the check-out desks.  There are tables and chairs just round the corner.  A vegetarian sausage in bread with your choice of topping and also a drink of your choice costs only NOK 12,- and is voted top class by my hot-dog loving, value for money, grandson.  Without the drink the veg hot dog costs only NOK 5,-  Best value soft ice in Norway costs only NOK 10,- and you can add red berry sauce!  A cup of coffee is only NOK 10,-
The IKEA bus
The free IKEA-bus which runs every hour from Monday to Saturday between Fred Olsens gate in Oslo and IKEA at Slependen.
The IKEA-bus does not stop between the warehouse and Fred Olsens gate in Oslo.

| | |
| --- | --- |
| From Oslo sentrum: |                                                  From IKEA Slependen: |
| | | | |
| --- | --- | --- | --- |
| Week days | Saturdays | Week days | Saturdays |
| | 09:30 | | 10:10 |
| 10:30 | 10:30 | 11:10 | 11:10 |
| 11:30 | 11:30 | 12:10 | 12:10 |
| 12:30 | 12:30 | 13:10 | 13:10 |
| 13:30 | 13:30 | 14:10 | 14:10 |
| 14:30 | 14:30 | 15:10 | 15:10 |
| 15:30 | 15:30 | 16:10 | 16:10 |
| 16:30 | 16:30 | 17:10 | 17:10 |
| 17:30 | 17:30 | 18:10 | 18:10 |
| 18:30 | 18:30 | 19:10 | 19:10 |
| 19:30 | 19:30 | 20:10 | 20:10 |
| 20:30 | | 21:10 | 21:10 |
| | | 22:10 | 21:45 |
| | | 22:45 | |
| | | | |