Vigeland Park is the world's largest sculpture park made by a single artist, and is one of Norway's most popular tourist attractions. The park is open to visitors all year round.  There is a large parking lot beside the park. Allow at least an hour to enjoy the various elements in the park.  We suggest that you first go to the beginning of life circle of eight bronze sculptures down below the bridge – with the little baby waiting to be born in the centre.  Then make your way through the park, finally arriving at the amazing monolith.
The unique sculpture park is Gustav Vigeland's lifework with more than 200 sculptures in bronze, granite and wrought iron. Vigeland was also in charge of the design and architectural layout of the park. The Vigeland Park was mainly completed between 1939 and 1949.
Most of the sculptures are placed in five units along an 850 meter long axis: The Main gate, the Bridge with the Children's playground, the Fountain, the Monolith plateau and the Wheel of Life.
Oslo citizens use the park for lots of recreational and sporting activities – skiing, jogging, walking, meeting friends, picnicking on the grass – and it is equally popular at all seasons.
You will enjoy finding your favourite statue – mine is the first on the left below!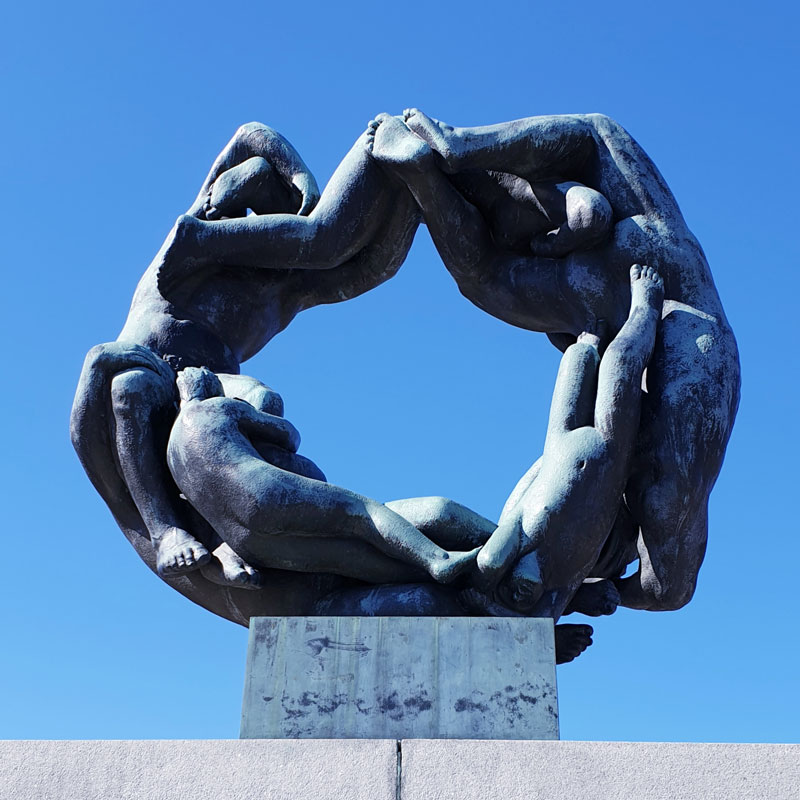 From the Monolith, walk to the Circle of Life.  After enjoying this, look over at the hills to see the iconic Holmenkollen ski jump.
Do find this first picture on the frieze of the Fountain of Life.  Then walk to the left to see the entire circle of life evolve.