Vardåsen – local hill to climb or go slaloming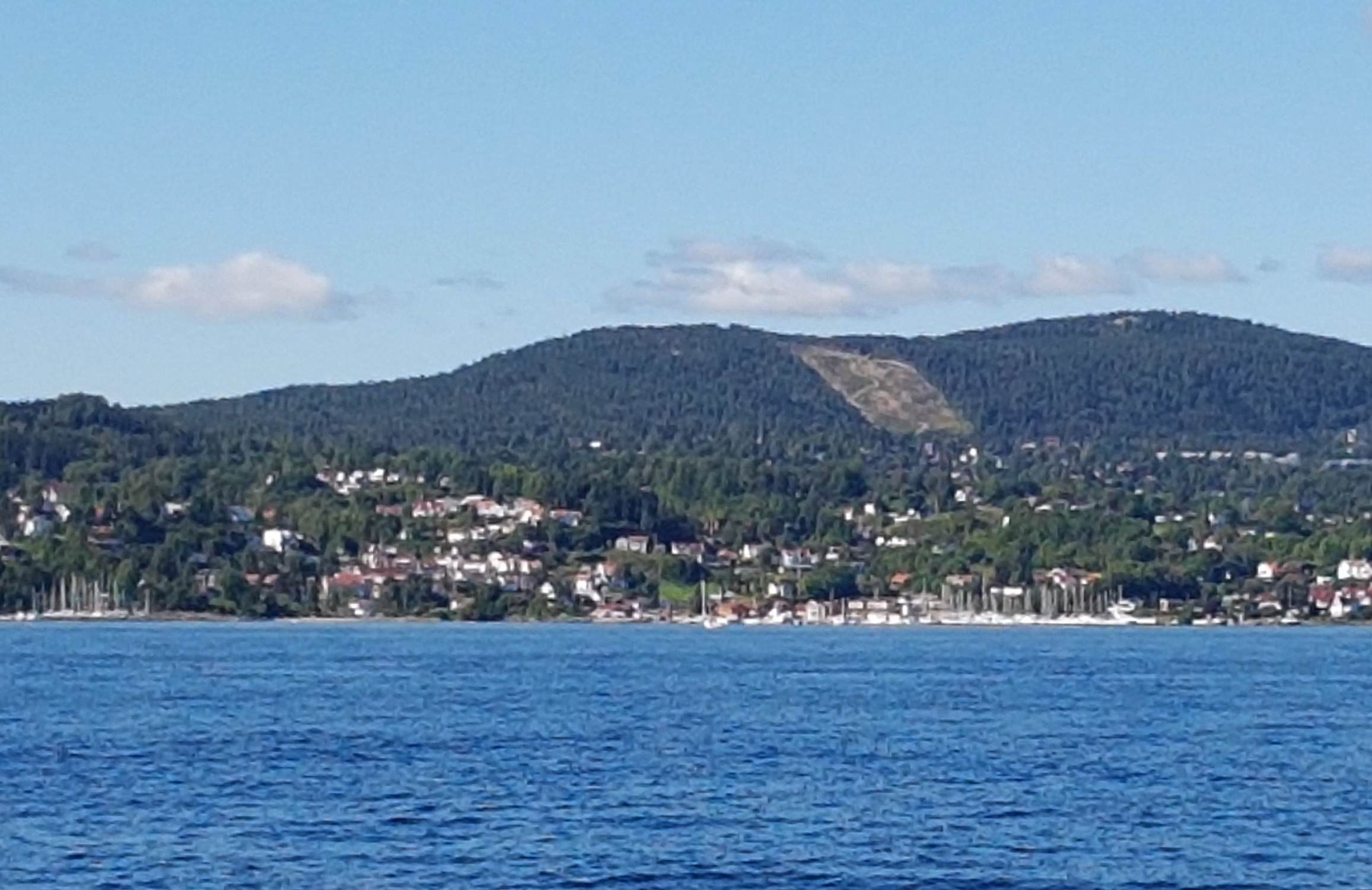 Vardåsen is our local slalom hill. It's seen here from the fjord, with Sheeps Inn just above the sailboat masts to the left of the photo.  Although this is a fun slope in winter, it is at least as popular during other seasons, as the view of the countryside and Oslo fjord is spectacular once you've climbed to the top. There are marked trails. Do remember to bring a picnic and water bottles to refresh you before the descent. You may like to record your climb in the tourist book found at the top most point on the hill.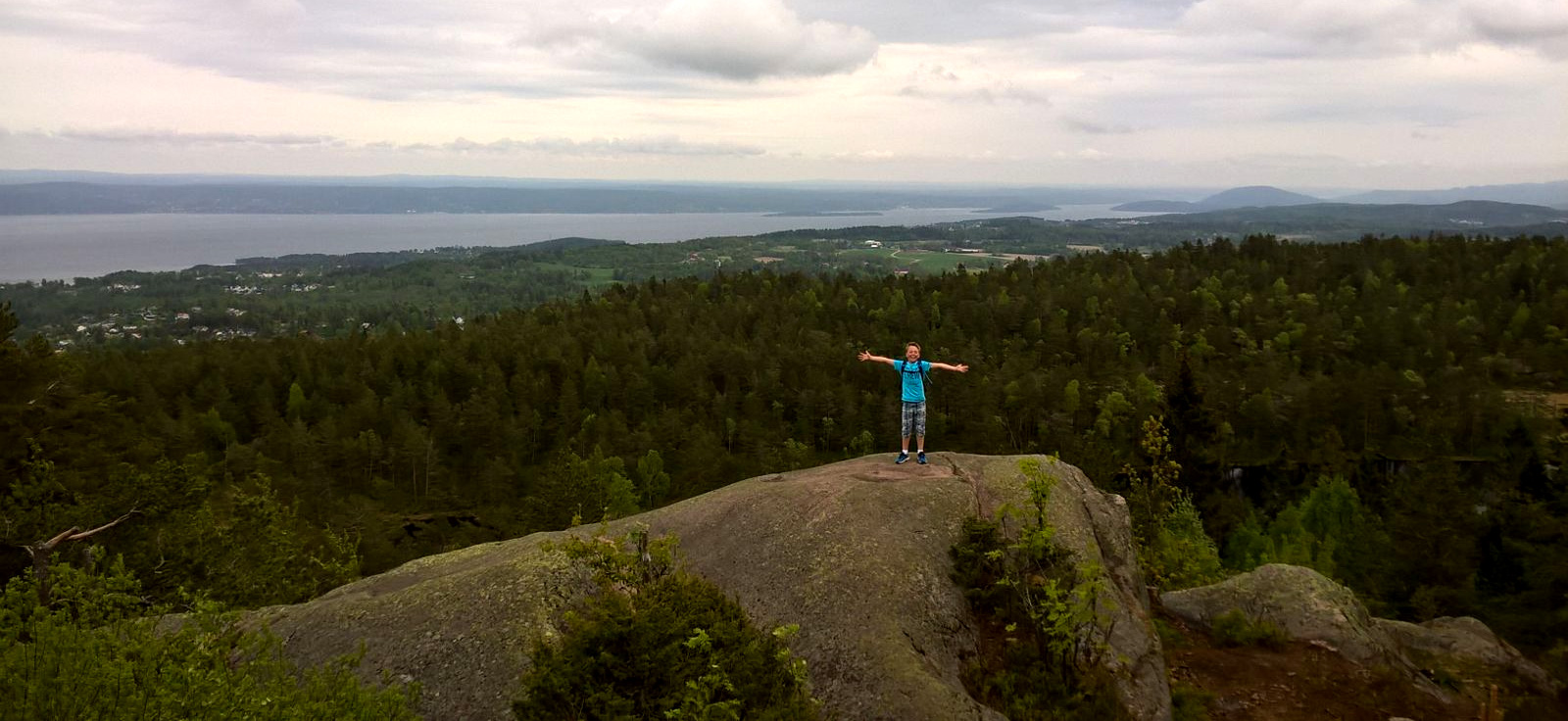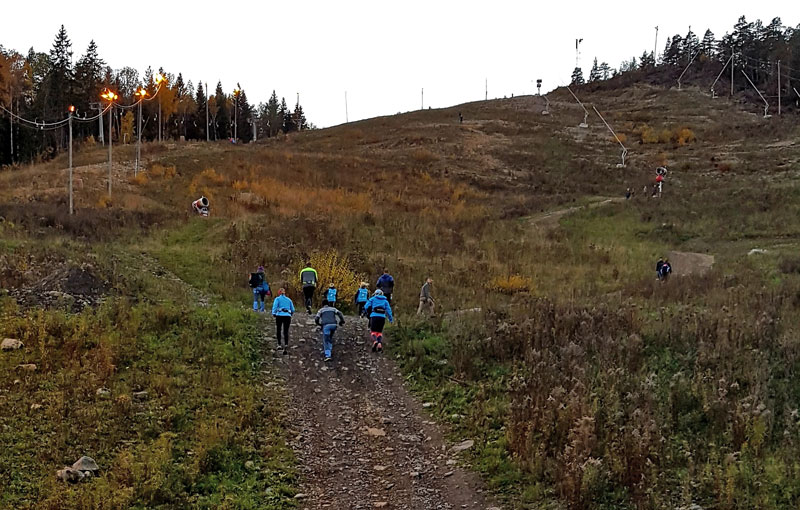 The picture above shows a group of adults and children walking up the slalom hill on an October evening.  Even quite young Norwegian children enjoy this climb and the satisfaction of reaching the top!  Our local sports clubs organize races up twice a year which kids down to 5 years old take part in.  Once a year in autumn there is a magical torch-light procession to the top – then many hundred people walk up. 
If you drive round Heggedalsveien from Heggedal village, especially at weekends or on fine evenings, you will often see rock climbers making their way up the very steep side of Vardåsen hill. If this is your sport, you might like to try yourself?
You see the 5 kilometer walk from Sheeps Inn to the bottom of the Vardåsen hill.  There is then a steep climb up to the top of the hill.   If you prefer, it is possible to drive past Gulhella and down to the railway station in the valley.  You could then leave your car there.
The views to the east of the Oslo fjord are quite magnificent but it is also well worth while to cross the hill to the top of the steep cliffs to the west.  These cliffs are popular with rock climbers and on fine evenings it is often possible to watch the climbers from Heggedalsveien road.
During winter, it is possible to enjoy slalom or snowboarding on the Vardåsen ski center.  However then you should drive through the town of Asker to the parking lot at the centre.