Kafé Oscar
Oscar café is famous throughout the greater Oslo region – for wonderful views of the fjord right into Oslo. You will find cakes, breads & sandwiches in the traditional building from 1870. So if you don't want to sail away for a picnic as our local baker is doing in Jordfald's humorous sign outside, then this is a place for breakfast, lunch or afternoon snack.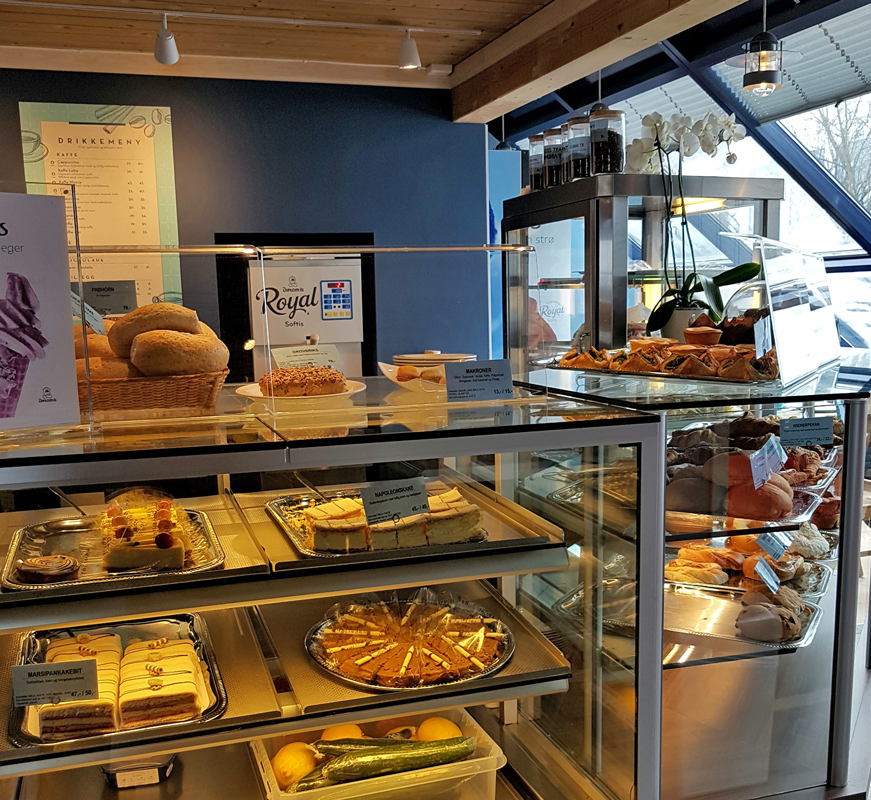 Opening times: Mon – Sat: 09:00 – 17.00 hrs, Sunday: 10:00 – 17.00 hrs.
And you might like to save some crumbs for the birds visiting the Piano Bird-table outside! Or take a look round the cafe, to find the statue of a boy throwing a stone towards the fjord…
Little England Tea Rooms
English/ American/Indian/Pakistani food, sandwiches, cream teas and lots more in an old skipper's house from the beginning of the 19th century.
Opening times: Saturdays: 11:00 – 17:00 hrs & Sundays: 12:00 – 18:00hrs
Oslofjord museum café

Whether or not you want to look round the boat exhibition in the museum, the café is a great place for a snack, coffee or an ice-cream when you are going to walk along the coastal path, look at the boats in the harbour or even have a swim.
Opening times: Monday – Sunday in summer from 11:00 – 15:00  In winter, only Sundays
Eléa Greek grocery store, take-aways and café
This is where we find wonderful products from Greece – figs in brandy and honey, ginger preserves which are delicious with cheeses. Newly baked cake (my favourite is the gorgeous lemon cake) just to name a very few.  You can enjoy a good cup of coffee and piece of pie or cake inside or out, according to the weather and season. And just recently Eléa has been granted a licence to sell wine with a meal at the café.
Opening times: Tuesday, Wednesday, Thursday and Friday 11:00 – 17:00; Saturday 11:00 – 16:00 and Sunday 12:00 – 16:00
Vito's Italian Restaurant
I took this photo on a mid-December day as I was walking down Vollen skog road to the village.  Vito's Restaurant is the large yellow sunlit building lying in the marina.  This is our favourite eating-out place in Vollen village.  However the Italian family who run the restaurant, take their holidays in winter, so it is open for the spring to autumn season from April.
You will find a translation of Vito's menu in Sheeps Inn apartment.  Some of the dishes, such as lasagne and pizza are available as take-aways.