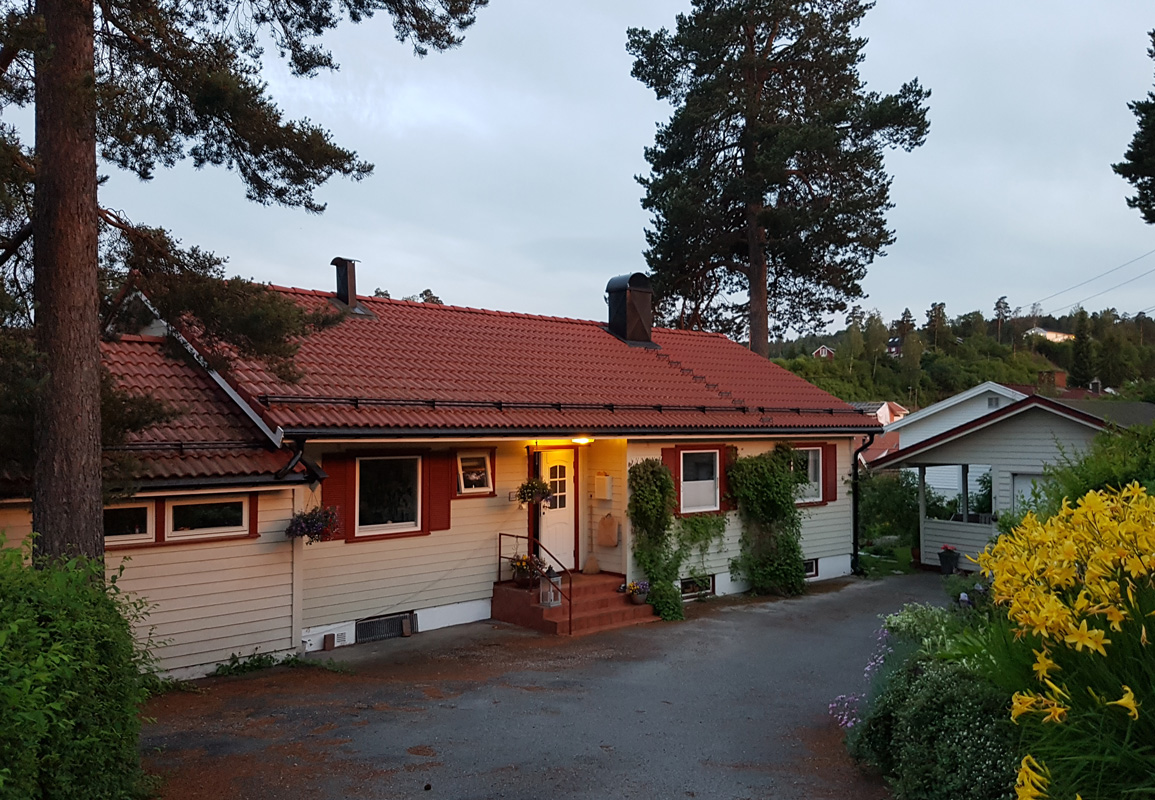 This is my house. (Picture taken after 11 p.m. on June 17th 2017)
Please park your car beside the house wall to the left of the garage.  Sheeps Inn apartment is at the south side of the house – you walk down the path to the left of the house.
Wifi – Username: SheepsInn    Password:  is found on the "Information for guests" page, at the front of the folder in the apartment
Please read the safety card on the wall in the bedroom.
If you smoke, please use the ashtray and sit by the hedge (there is a great view to ships and boats on the fjord)
Cushions for the outdoor chairs are in the black box outside. Please replace them in the box at night.
There are 3 small torches on the kitchen window sill. Borrow  these if you wish, but please leave them back.
You are very welcome to borrow the fleece rugs to use outside; or a blanket to put on top of your duvet. Blankets are in the linen cupboard in the play room.
There is a hair-dryer in the cupboard in the toilet room.
Please recharge your electronic devices in the bedroom.
Norway is very eco conscious, so please reuse your towels. Put towels for wash in the brown box.
This is a quiet neighbourhood. Please make as little noise as possible after 23:00 hrs.
We are happy to give help/advice preferably not before 9 a.m. or after 9 p.m. You can always reach me by mobile.
If your child falls in love with the Norwegian moose in the apartment, you can buy one in IKEA – price NOK 185,-
Please remember to give us back both your bedroom and the garden door key when you leave.
In this municipality in Norway, we practice rubbish sorting. Each household has 3 bins.  There is a roll of green plastic disposal bags in the kitchen.
Our bins are at the top of the drive.
Paper is put in the large brown bin.
Food waste is put in the middle bin.
General waste, such as diapers, food cartons etc is put in the one nearest the road (with a dog sticker)
Plastic is also recycled. You can put this in a separate bag and give to me.
Glass bottles, such as wine bottles, are recycled too at the local depot.  Just give them to me.
Returnable plastic and glass bottles (such as beer bottles, Coca Cola etc, for which you pay a deposit), can be returned in the machine in REMA 1000 supermarket. You can choose to have a cash refund or press the Red Cross button and hope to win a generous cash prize.  If you don't win, you will anyway have donated to the Norwegian Red Cross.