We are members at Kjekstad golf club, a 15 minute drive from Vollen.  – Kjekstad has several practice putting greens, a large driving range, pitching and sand practice areas, a café and shop.  The picture above was taken on 9th May 2016 when the temperature was a wonderful 24 degrees Celsius! The club has two courses – the 18 hole which is fairly demanding and also provides an amazing nature experience as you move round the forest, even glimpsing Oslo in the far distance from the highest point.  The 9 hole course is my favourite – it's a par 3 course but provides a lot of challenge.  Hole 6 is shown on the introduction photo – where a few times in a season I might get a birdie and there's always the hope of that elusive hole in one…
There are quite a number of golf clubs in the Oslo region.  Depending on the weather conditions and how early or late the snow melted, the season begins in late April and ends in October.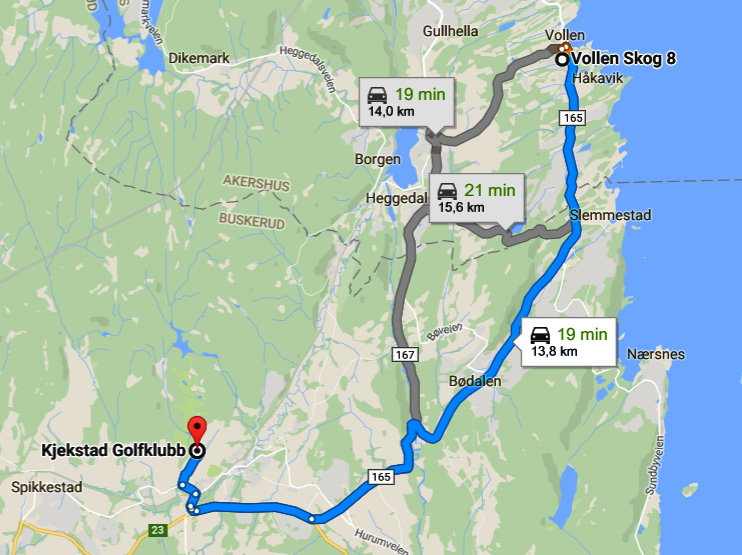 I usually drive up Vollenveien to Heggedal and then take road 167 to join road 165.  Perhaps take one route there and the other home?
The physical map shows both the 9 hole, 3-par course to the west of the Clubhouse at Kjekstad Golf Club and also the 18 hole course to the north.  I'd like to mention Hole 10, which is the most northerly and has a spectacular tee-off over the lake.